Nadine as a Graphic Designer
Around September 2014 I discovered several print-on-demand product websites and since I'm a very visual person, I exercised my passion for designing images on my computer, at first for the articles I wrote for Hubpages and later for the many products that are on-line for sale to people from all over the world. November and December are really the most hectic time of the year.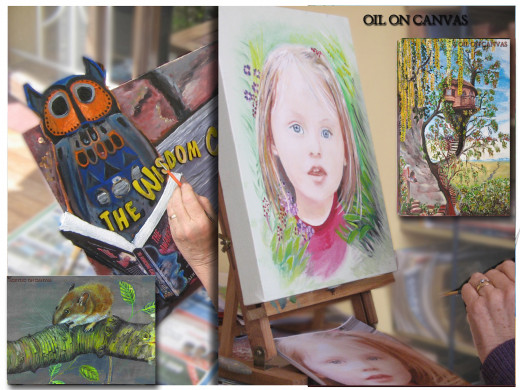 Cyberspace is a virtual reality that connects people directly together right in their homes. Who would have thought that possible say fifty years ago? Who would have understood the term: Becoming-a-virtual-entrepreneur
Many people earn their income by working from home these days. There are so many job opportunities in Cyberspace alone, which has brought a lot of changes in people's lifestyles. Cyberspace is also a great world for virtual entrepreneurs. An opportunity was born around ten years ago for people who, like me, love to create images that can be used to decorate many products like clothing, household goods, toys, and accessories to name a few. The artist can earn royalties when a product is bought.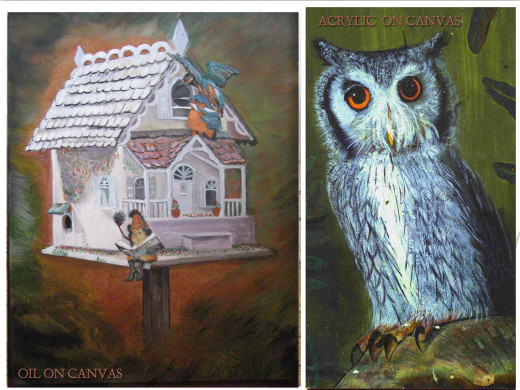 Which Designs are the most Popular?
I'm what you call an organic designer.
I've learned from other Zazzle designers that personalized designs are what shoppers look for. This goes for most products, especially cards, invitations and other gift lines. Most of my designs are therefore created with that in mind. Being rather a newbie at this work I probably made many mistakes. Not so much on the technical side, since I have been designing book covers for the last ten years, so I know the printing requirements, but more to do with what kind of image looks good on what, and what do people generally look for.
The very first product where I personally go with a design is a mug. My husband and I sometimes visit a coffee shop in a nearby shopping mall that has hundreds of mugs, tea or coffee cups and dinner sets for sale, and it's the design that catches one's eye. For example; I love owls, photos of owls or animated images of owls, but there are so many owl designs already published on the three main websites I have a shop at, that what is the point me adding more
Which of my own Designs are Selling?
My designs all fall under organic designs, meaning I do not do trendy artwork, which I'm sure is more popular, but I do what comes to me at that moment.
I'm an international designer and because all the print-on-demand websites are based either in the USA or Australia: Zazzle – in California – Society6 in Los Angeles and Redbubble is in Australia to name the three main websites I seem to design for, I needed to come up with my own local impressions.
I needed to find my inspirations from my childhood when illustrations made me create stories in my head, and also due to my affinity with Africa, which is now my home. That was the right decision. Those two genre designs seem to be the most popular so far for me. My African designs on Society6 and my Anton Pieck incorporated designs on Zazzle and Redbubble are popular. My brand name with Amazon is, therefore, African Art by Nadine May
What Theme to Use as a Kind of Branding
Most of my work fall under my name Nadine May, especially on Amazon. Its my Authors name so most of my P.O.D marketing is done under that name.
My childhood in Holland has made a great impact on my decision to use the art of a family friend of my parents, the artist Anton Pieck. It was through a friend of my mother, who lived in Den Helder, that my mom got hooked on his work. I was a small child but loved creating stories in my head while reading the famous fairy stories, by Brothers Grimm and Tales of One Thousand and One Nights. These stories were all illustrated by Anton Pieck. Several of his drawings hung in the hallway of my childhood home.
Who was Anton Pieck?
"Anton Pieck is in the Netherlands best known for his romantic illustrations and as the creative force behind one of Europe's leading theme parks the Efteling in Kaatsheuvel, Holland, now one of the major theme parks in Europe. When my mother passed on I inherited lots of art work that she had collected. This was well before the internet.
I did my research on the copyright laws and contacted some old friends of my parents who were still alive to ask them about using some of his work which I inherited. I was told that so long as I incorporated his art into my own design work, there was no problem.
While writing this article I typed into Google: "Anton Pieck designs on products" I was flabbergasted. I see many of my Anton Pieck product designs from Zazzle on this page!
Wow! On the same page I find a Hub article! Titled: Anton Pieck – Underappreciated Dutch Gem This article was written by Arietha from the Netherlands who Joined 5 years ago. She has not been active since then, but I befriended her nevertheless.
In my childhood years there was also another artist that I loved as a child. We own the puzzle from this painting that I used, but the puzzle is still in Holland with my sister.
He was Norman Rockwell who was commissioned by the Dutch Panorama magazine during the sixties to illustrate the back cover. Editorial cost cutting by omitting the expensive covers killed profitable circulation and made it obvious that people bought the magazine by its covers, and that likely their favorite 'image' was Norman Rockwell's. That was the case in our home. Today I'm not sure if the panorama is still in print. It might be only an online magazine.
We used to cut out the last page with his paintings and today I have done a similar design as I have done with Anton Pieck.
I did have permission to do it with Anton Pieck if I incorporated it with my own art, but sadly they took my Norman Rockwell designs down. I'm now looking for other old masters that have no copy right on them anymore because they died over 100 years ago!
Doing further research
For fun I typed into Google: what graphic has the most hits. The first image on this page was from: Marvel's Oversized Graphic Novel, "Avengers" then I saw a lot of graph charts, maps and a few T Shirt images. I then typed: What graphic is the most popular Now I see that the word Popular seems to be what first appears on graphics. Text art seems to dominate this page. There are lots on clothing and It seems clear that a text graphic on T Shirts cannot go wrong.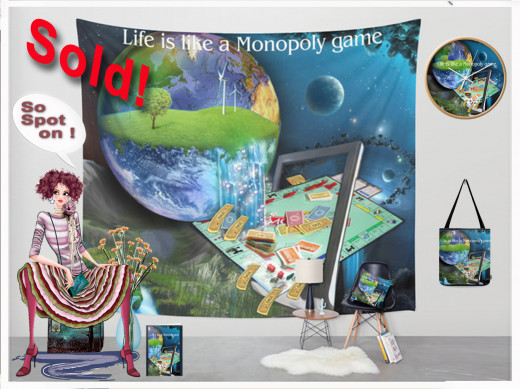 I have created one ( Life is like a Monopoly game) and I did have a sale, but not on a T Shirt but a tapestry. Ive used this image in my latest article 27th of January 2019 titled: All the World is a Stage
In this rather controversial article where I do not mention about print on demand product shops. That article belongs to my blog titled the End of Time. This is is my online shopping blog.
Many designers buy products that have their own designs
Since I live in South Africa (Cape Town) it's not easy to design graphics for the global market, especially for the many holidays different countries hold. I also cannot really focus on our own market because our South African currency, the Rand is low against the dollar. We need to multiply every dollar spend fourteen times plus, to get to the price a product cost us. Shipping costs are also a financial obstacle.
I have created a collection that holds designs related to Cape Town and surroundings, but so far that has not been successful. What has truly been a treat was the arrival of my own garden design on a pillow taken from a photo I shot in September. When Society6 offered a worldwide fee shipping, I was tempted for this one time to find out what a pillow with my own design really looked like. I was truly very happy with the results. What you see on-line is what you get!
Our Front deck garden in Clovelly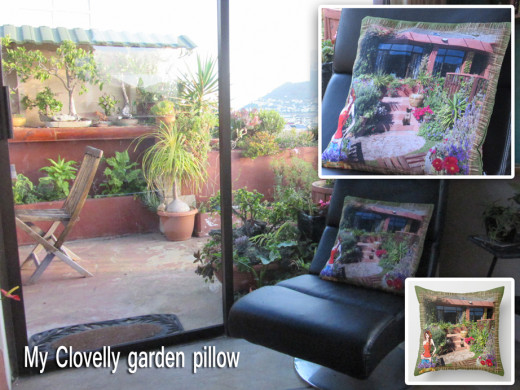 Conclusion
This is my third article on the topic about earnings, in my case with graphic designs on products, but they are not favorite by the Hub-pages team for some unknown reason. I suspect they do not like any links, so I made this article more visual from my blog.
Nadine May